Restaurant
Passion for pure food at Restaurant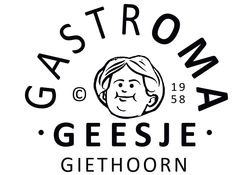 ---
Because of what grandma Geesje had shaken out of her apron (eating potluck from our own garden and Giethoorn region), we have given her recipes (traditional Gieterse cuisine) a modern and creative interpretation. GastrOma Geesje serves a beautiful new menu every day (3 or 4 courses) with a choice of meat, fish, or vegetarian. Naturally adaptable to dietary requirements and prepared with different allergic reactions in mind. If you have any questions, please send an email or ask when you arrive. 
Dishes from GastrOma Geesje are regional (Uut Giethoorn), traditionally prepared and inspired by the seasons, originating from the rural food culture, healthy and full of good nutrients. The idea behind Uut Giethoorn products is to learn how to deal with food more consciously, to appreciate the makers/farmers, know what you eat and how it is produced and prepared. It is a responsible way of cooking with lots of vegetables. 
Currently, we only serve drinks and lunch to-go, dinner and breakfast take out in a box. 
---
---